University boosts visibility in international science
Being part of an association of research-intensive peers is turbo-charging the University of Bern's international radius of influence to ultimately bring benefits to researchers. That's according to Rector Christian Leumann and Jan Palmowski, secretary general of The Guild of European Research-Intensive Universities (The Guild), of which the university is a member.
By Faryal Mirza, UniBE International Office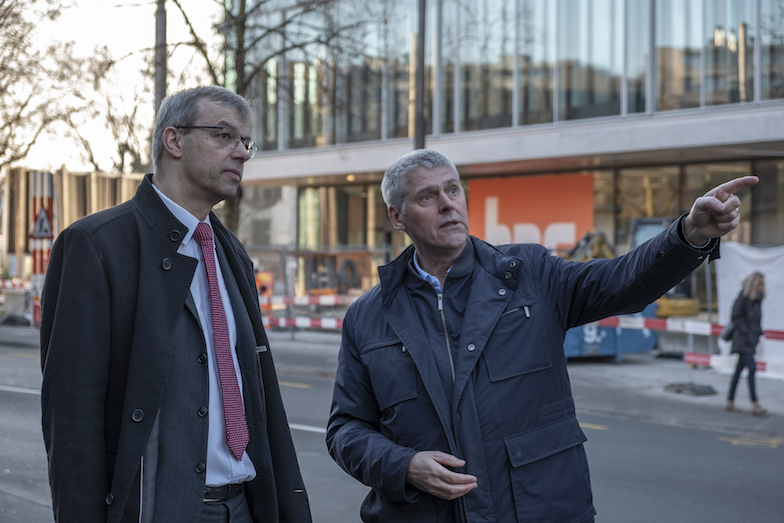 Faryal Mirza: Why is it necessary to raise the international visibility of the University of Bern?
Christian Leumann (CL): As the third largest university in Switzerland, we are not known for all we do in terms of international research and, thus, have a problem of reputation. That is why an important factor of our university's internationalization strategy is to actually show the rest of the world what we do and to get recognition.
That is why we looked for ways to improve this – one way is to be part of an association of research-intensive universities, which will certainly help us.
What benefits does being a member of The Guild bring?
CL: We are in a special situation as a Swiss university because Switzerland is not directly affiliated in full to the European research-funding landscape. Any information we can gather from our sister universities in the rest of Europe is important to help us get an overall view on where we and they stand, where their problems are and how we can help each other.
We are trying to have our voice heard in Brussels and to have privileged information about what is going on there by being connected to a network of other universities in the wider framework of European universities and European Union (EU) funding.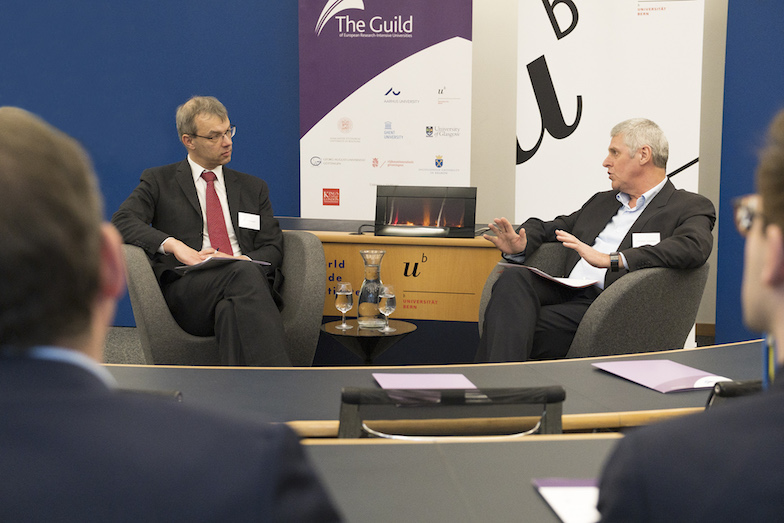 Jan Palmowski, is there particular cause for alarm for Swiss universities within the ongoing discussions on Horizon Europe, the EU's next research funding framework that is due to come into force in 2021?
Jan Palmowski (JP): I see three areas of real concern. The first is the link established by the EU between the EU-Switzerland framework agreement or treaty and the discussions about Swiss participation in Horizon Europe. This could result in unacceptable delays in Switzerland's participation.
There is also the EU's insistence that so-called third countries or non-EU members like Switzerland can be excluded from certain grants, such as those from the European Research Council. While I am certain that Swiss researchers will continue to have access to such funding, the uncertainty does not help.
Lastly, if the scientific excellence of the Horizon Europe is compromised, Switzerland may decide not to join Horizon Europe and that would, in my view, be a disaster for science in Switzerland and the EU.
How open are the EU institutions to listening to universities represented by The Guild?
JP: I have been positively surprised by how much the European Commission seeks inputs from stakeholders. Ultimately, it needs assurance that its initiatives will work for scientists, institutions and students.
There are many people in the Commission, who care deeply about what they do and are immensely knowledgeable not only about our sector but also about the national differences they engage with every day.
In a short time, The Guild has achieved an excellent relationship with the Commission, European Parliament and European Council. This success is predicated on the quality of input, which we have received from our members.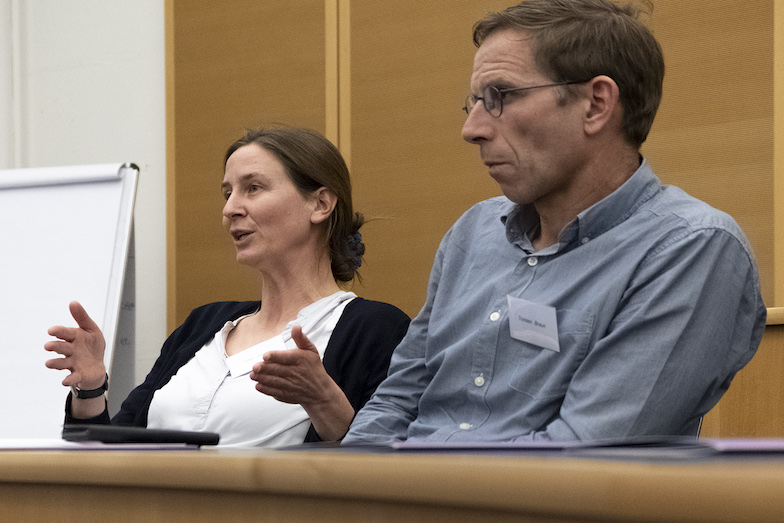 What value can and does the University of Bern bring to the discussions on EU research policy?
JP: Bern is an extremely strong university, distinguished by research excellence across all fields and with world-leading expertise in a number of areas. The University has been influential in shaping The Guild's key policy papers on Horizon Europe and on other topics, such as open science. The University has been very influential in communicating its concerns as a Swiss university.
For our part, we have done intense lobbying on the position of Switzerland with the European Council and Members of the European Parliament. This is particularly effective if the position is not seen as a special-interest representation but comes instead from a coalition of 19 strong European universities in 14 countries.
CL: For the University, becoming a player in an international organization like The Guild has led to it having a different level of standing within the Swiss science community. Now that the authorities in Switzerland are starting to realize that we are part of a European network of universities, we are now being increasingly consulted on questions of foreign science policy.
To our fellow Guild members, we can bring an outside view on EU research, which is less politically determined in the sense that we are more neutral. We can afford to have and present a more open view.
How would you characterize the reaction towards membership within the University?
CL: As generally positive. I am absolutely convinced that people realize that this is a move forward into being more exposed at the international level. Of course, there was some reluctance too. Everyone knows that, when you are part of a network, you are required to contribute and we all have a workload that is already quite high.
We are asking our colleagues to tell us their views on The Guild membership, what is at stake for them and how we can together develop as a member of The Guild.
We advise them to try to first figure out what advantages The Guild could offer them in their own personal scientific work and network, rather than thinking in terms of the extra workload it could bring.
JP: I appreciate that we are all facing competing demands on our time but The Guild is very dependent on the quality of university inputs. Membership gives researchers and support staff a special opportunity to influence Horizon Europe so that it ends up being a programme that supports our science. We cannot leave this to the politicians.
The more we raise our voice and share our experiences, the better we enable Horizon Europe to be.
The Guild of European Research-Intensive Universities
Founded in 2016, the Guild comprises 19 of Europe's most distinguished research-intensive universities in 14 countries, and is dedicated to enhancing the voice of academic institutions, their researchers and their students. The Guild is committed to the pursuit of excellence, the importance of truth-seeking and trust-building as the foundation of public life, and the creation of new knowledge for the benefit of society, culture, and economic growth.
UniBE International Office
UniBE International is responsible for implementing the University of Bern's internationalisation strategy and is responsible for international relations with university stakeholders, such as The Guild and partner universities, and global student and staff mobility.
About the author
Faryal Mirza is the External Relations Manager at UniBE International, which is the institutional liaison for The Guild.