Le Carré's enduring love for Bern
John le Carré, the bestselling spy novelist, who recently died at the age of 89, was a student at the University of Bern. The British alumnus was 16 years old, restless and possessed by curiosity about the German-speaking world when he arrived in the Swiss capital by train in October 1948.
Author: David Koch with Faryal Mirza, UniBE International Office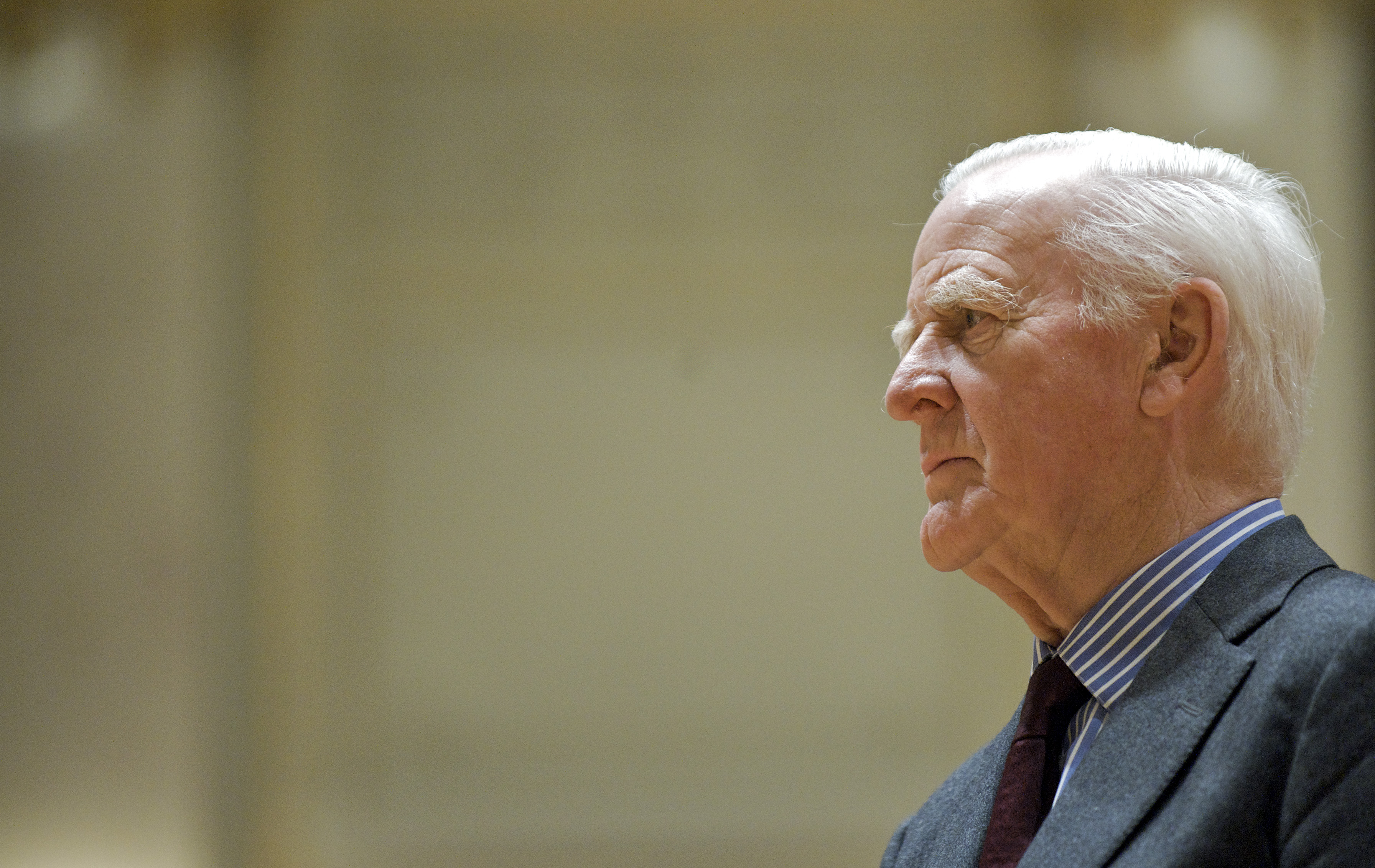 To enrol at the University of Bern, he met its registrar, who "marvelled at his lack of qualifications", according to Adam Sisman, author of John le Carré: The Biography (2015).
"When David's schoolboy German failed him, they continued the conversation in English. David told the registrar that he wished to study German language and literature; the registrar suggested that he might find it easier to take an introductory course in philosophy instead but David was adamant. With a droll smile, the registrar wished the young man luck and shook his hand."
Cornwell would soon master the German language.
Bern years
After gaining admission to the University, it was a dynamic time for the young man in Bern, who was born in the English town of Poole in 1931.
He juggled his studies with working as a waiter in a train-station buffet, skiing and claimed to have washed elephants for Switzerland's Circus Knie.
Home was a little room that always smelled of chocolate for it was next to the Tobler factory, where Toblerone bars were made.
His interest in German literature came to the forefront time and time again outside of the University.
"Losing himself in the cobbled… streets of Bern, many of them covered by vaulted arcades, he recited Hermann Hesse," writes Sisman.
On Saturdays, Cornwell would dress in his finest suit for the thé dansant or tea dance at the Bellevue Palace, an elegant hotel perched above the River Aare. The hotel, a Bern landmark, is still there today.
On Sundays, he would go for walks along the riverside or on the Gurten, a popular mountain reached by funicular with a commanding view of the city below.
It was also in Bern that Cornwell was first recruited into the British intelligence services after meeting a pair of consular officials at a church on Christmas Day.
His early experiences as an intelligence agent involved attending the meetings of left-wing student groups and acting as an informant.
John le Carré speaking in fluent German at his investiture for a doctora honoris causa of the University of Bern, 2009 (Video: Tagesschau/SRF)
Publishing career
Le Carré returned to England after his interlude in Bern to study at the University of Oxford.
He then worked in London for MI5 (domestic counterintelligence) before transferring to MI6, the British foreign intelligence service, and being posted to Bonn, Germany.
Writing as John le Carré, Cornwall's first novel, A Call for the Dead, was published in 1961. During this period, he was posing as a junior diplomat, while running a network of agents in the then West German capital.
The novel also marked the debut of his character, George Smiley, a spymaster.
But his breakthrough as a novelist arrived with The Spy who Came in from the Cold (1963), a bleak and masterful Cold War thriller that spent 35 weeks at the top of the New York Times best-seller list. It was made into a 1965 movie starring Richard Burton.
As his fame spread, le Carré resigned from the MI6 and has been publishing novels ever since. Having sold millions of books in a career spanning more than half a century, le Carré's writing is routinely translated into more than 30 languages and read the world over.
Set in Bern
A master raconteur, le Carré has woven his impressions from Bern into many novels.
In a memorable scene from Tinker Tailor Soldier Spy (1974), one of Le Carré's best-loved books, two British spies are operating in the Swiss capital in pursuit of arms dealers when, to evade the police, they escape through a maze of hallways and stairwells hung with mirror walls and chandeliers. They are in the capital's Bellevue Palace, where a teenaged Cornwell had attended tea dances on weekends.
Bern is also an important setting for A Perfect Spy. In this autobiographical novel, the protagonist Magnus Pym finds himself in Bern's cobbled streets after his father, a conman, sends him there on an errand.
Magnus remains in Bern, working night shifts rolling beer barrels for a brewer, dipping tallows for a candle-maker and doing other odd jobs: "All those things he did and more. All of them at night, a night animal on the run through that lovely candlelit city with its clocks and wells and cobbles and arcades."
It is a description that still captures the magic of Bern's Old City today.
In Our Kind of Traitor, Bern features again. The novel was turned into a film, released in 2016, starring Ewan McGregor, Naomi Harris, Stellan Skarsgard and le Carré himself in a cameo.
The same year, Le Carré published his memoirs, The Pigeon Tunnel, and, in 2017, published his 24th novel, A Legacy of Spies at the age of 85.
Music: Journey to Bern, Our Kind of Traitor
Extraordinary talent
Le Carré's family issued the following statement after his death on December 12, 2020: "It is with great sadness that we must confirm that David Cornwell – John le Carré – passed away from pneumonia last Saturday night after a short battle with the illness. David is survived by his beloved wife of almost fifty years, Jane, and his sons Nicholas, Timothy, Stephen and Simon. We all grieve deeply his passing."
At his literary agency, Curtis Brown, CEO Jonny Geller also marked le Carré's passing.
"We have lost a great figure of English literature, a man of great wit, kindness, humour and intelligence," he said.